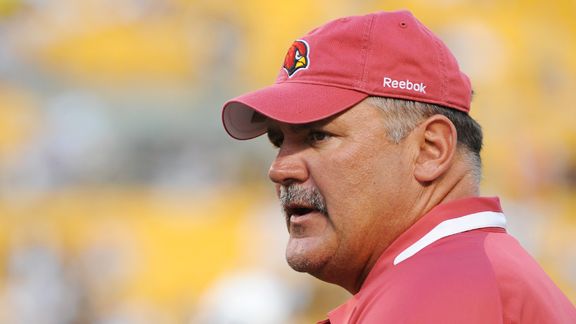 George Gojkovich/Getty ImagesRuss Grimm said he was shocked when he looked in the stands and saw people dressed like Hogs.
When Russ Grimm was drafted in the third round of the 1981 NFL Draft, he likely had no idea he would be the centerpiece of what many consider to be the greatest offensive line in pro football history.
That line -- affectionally dubbed the Hogs -- would help the Washington Redskins win three Super Bowls, and Grimm would be elected into the Pro Football Hall of Fame.
Grimm, the current assistant head coach of the Arizona Cardinals, joined XTRA 910 in Phoenix to talk about his recent election into the Hall and also sheds some light on the famous hot dog eating incident.
Is it true that you threw up a hot dog on the practice field only to pick it up and chow down on it for a second time?
"The hot dog story -- I'm not going to say it's false. It's a little embellished, but it's probably 60 to 65 percent true. There's some wrinkles in it, but I'll just leave it at that."
On which part is true?
"Well I'll just say it wasn't a whole dog. It was only a piece. It was in between practices. We hadn't been out to the bar yet so it was in between practices. And basically the rest of it's true."